We successfully launched another ColdFusion web site on Friday for Act2 Strategists, Inc. located at www.act2plan.com. I built the site using CSS, XHTML and of course Adobe® ColdFusion®. The site was designed by one of Northwestern Illinois' finest designers, Greg L.
Static areas of the site were optimized for use with Adobe® Contribute® CS3, while the dynamic, data-driven areas are administered with a custom back-end powered by Adobe® ColdFusion® and Microsoft® SQL Server.
Congratulations Act2 Strategists on your new online presence!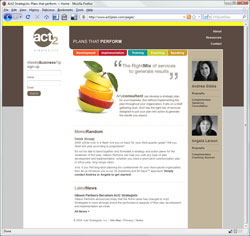 Designer: Greg L. | Developer: Stephen Withington