I typically don't post "political" items on my blog, however, it's difficult to not have an opinion on the way our elected officials are attempting to deal with our economic uncertainty. I'm not necessarily bashing on just persons in Congress or the Senate, but also they way business leaders and we, as consumers, are handling our current "economic crises."
The most recent activity that truly made me look up from my "daily routines" has been the recent talks on Capital Hill with the big three automakers (and the UAW). Currently, the talks are moving toward a "$15 billion government rescue of the American automobile industry." Although I believe that should actually read "taxpayer rescue," but who's really paying attention anyway?
There are so many facets to this situation that it would be difficult for me to describe each lens I've attempted to look at this situation through. However, on the surface, I truly struggle with how our elected officials can justify pouring taxpayers hard-earned dollars onto a flaming, sinking ship thinking it will help keep it afloat.
Just for curiosity, I threw together a quick, one-question poll asking the question I used in the title of this article and posted the question via Twitter. As of the time I published this article, here are the results thus far: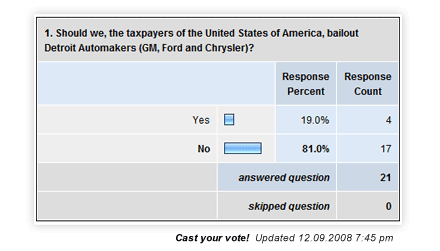 As one of my Twitter friends said, "if anyone thinks that the answer to bailing out the auto industry can be put into a neat yes/no answer, you're dreaming." I agree with that statement, and yet also think that ultimately, the question begs a yes or no answer. Obviously, if the answer were yes, in any way, shape or form, then conditions must apply ... hence the ongoing talks and negotiations on Capital Hill.
Why is it that we just can't say "No?" What are we to do when other "American" industries begin marching onto Capital Hill? Where's the money going to come from? Heck, where's the money going to come from to bailout the auto industry in the first place? What about the other $700 billion for the financial industry?
I understand these are extremely complex issues and there is no "cure-all" for our economy. However, the current process truly concerns me ... especially when we're about to enter into a new administration that has already promised "more spending" on a wide array of programs.
Just in case you're wondering, for as long as I can remember, I have driven a Ford. I did so for a number of reason, but one of those reasons was because it was an "American" automobile. Sure they may have some foreign parts in them, but what doesn't these days? Recently, I traded in my Ford for a Toyota. I did so primarily because I wanted a more fuel-efficient vehicle and the only hybrid offering in Ford's lineup (or GM's or Chrysler's for that matter) were SUV's. Now, prior to owning a Ford Fusion, I owned 2 different Ford Expeditions, a Ford F-150 4x4, a Ford Bronco (the full sized one) and a Ford Mustang. So, please don't tell me I never did my part. I would have happily traded in my Fusion for a hybrid version ... if there were such a thing.
Again, I understand the issues that the big three automakers are dealing with today are much more complex than whether or not they offer hybrids which compete with Honda and Toyota, but it's also hard to ignore the fact that Honda and Toyota aren't on Capital Hill even though they employ thousands of Americans too. I found it ironic too that Honda was opening a plant the very same day as one of the meetings going on in Washington D.C. I also thought is was funny how Ford and GM said they would sell their corporate jets to save money, most likely because they were "criticized for flying to Washington for the last round of hearings on separate private jets."
I'm concerned about the tens of thousands of employees that have been and will be affected by this. I'm not just talking about the automobile manufacturers either. I know there are tens of thousands of jobs tied to and dependent upon the big three automotive companies. I'm also concerned about the families and children of these people. I'm concerned about my own family and whether or not my 401k will dwindle even further.
For now, I guess all I can do is pray for these employees and their families ... and voice my concerns.