I'm proud to announce the launch of a new ColdFusion web site for FurstPerson. FurstPerson claims to "Drive Hiring Performance Improvement" with their "Call Center Hiring and Assessment Solutions."
The ultra-slick design was courtesy our "beloved" Jaci, who performed her magic using Adobe's Photoshop® and Illustrator®. Using Adobe® ColdFusion® as well as MS SQL, CSS and XHTML, I constructed the site from the designer's image files.
The site features the ability to "Gate" some dynamic content such as case studies, white papers and even video whereby a user may be required to "register" in order to view the material. To deliver streaming video, we partnered with the folks over at Brightcove. I was able to leverage some of their API's to deliver the video dynamically. The site has also been tightly integrated with Eloqua for lead generation as well as some statistical information.
I plan to write a few more posts down the road on how I handled some of the hurdles I faced while building the site, including the ability to allow the client to tie documents, blog/news posts and videos directly to specific products and services through an intuitive back-end administration area.
Congratulations Jeff and everyone else at FurstPerson. This truly was a challenging and rewarding project to be a part of.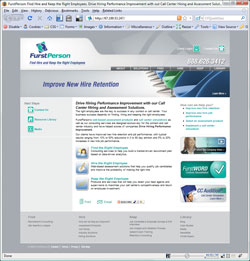 Designer: Jaci M. | Developer: Stephen Withington