This morning, I launched another ColdFusion web site for PG Engineered Control Solutions (a.k.a. PrecisionGovernors.com), who "has a long history of innovative system implementations for electromechanical, electrohydrolic and engine management."
As usual, I built the site from the ground up using Adobe® ColdFusion® along with CSS, XHTML and of course Microsoft® SQL Server. Some of the more "static" areas of the site were optimized for use with Adobe® Contribute® CS4.
Many thanks to Greg L. for the squeaky clean design!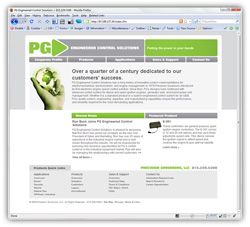 Designer: Greg L. | Developer: Stephen Withington