Another ColdFusion web site was launched for Just Rite Acoustics, Inc. located at www.justriteacoustics.com. In addition to acoustical ceilings, Just Rite offers "pre-manufactured acoustical wall panels, site-built acoustical wall systems, access floors and a specialty division that concentrates on difficult and unusual projects."
The site was originally built using tables and several images for the layout where most of the text was actually embedded into image slices. As you'll see, that has all changed. I've reconstructed the site using CSS, XHTML and of course Adobe® ColdFusion®.
In addition, we've added a fully customized back-end for the client to add or modify services, projects and even office locations.
A huge "Thank you!" goes out to Todd Sharp for his work on cfImageCropper which definitely came in handy on this project.
Congratulations Just Rite Acoustics on your web site facelift!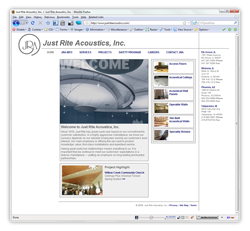 Developer: Stephen Withington