Rockford Linear Motion, a subsidiary of Rockford Ball Screw, has just launched their first ever online presence at www.rockfordlinearmotion.com. The site is powered by Adobe® ColdFusion® and Microsoft® SQL Server with content being managed by Mura CMS, a comprehensive web-based content management system. Rockford Linear Motion offers a fully customizable lineup of linear guide rail systems, products and services.
This was my first "commercial" web site constructed to be managed by Mura CMS. I was able to take our designer's (Greg L.) completely customized design from Adobe® Illustrator® + Photoshop® to CSS + XHTML and then fully integrate this design with Mura. I was also able to leverage and extend much of Mura's functionality to achieve the final result.
At the client's request, we also integrated the custom design with two other third-party vendors including Catalog Data Solutions and Network Solutions CommerceSpace™. Needless to say, I learned quite a bit about working with each of these vendors and look forward to working with them again.
Amazingly, we were able to launch the site within three (3) weeks of receiving the final design files for the site. As anyone who builds web sites would testify, this short of a timeframe is definitely not the norm. However, by utilizing Mura CMS and ColdFusion, we were able to get the job done in record time.
Congratulations to the folks at Rockford Linear Motion! Also, a huge thanks to each person who assisted me in keeping this project moving at light speed.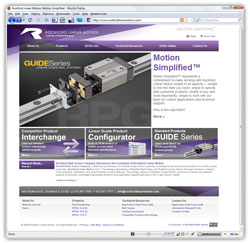 Designer: Greg L. | Developer: Stephen Withington | Content Management System: Mura CMS