EBL Canopy Tours, launched their completely revamped online presence at www.ebl.org. Technically speaking, three (3) separate sites have been launched for EBL. The main site has become more of a "landing" page allowing visitors to choose the direction they wish to proceed: Canopy Zipline Adventures and Canopy Zipline Installations. The "adventures" site is geared towards those seeking zipline and canopy tour adventures, while the "installations" site is geared towards those seeking the "premier installer of Canopy Zipline Tours."
All of the sites are powered by Adobe® ColdFusion® and Microsoft® SQL Server with online content management provided via Mura CMS. Jaci M.'s fully customized designs were easily integrated into Mura CMS to allow our client the ability to add and edit content while maintaining the original design's integrity.
The sites feature a brand new Mura plugin I've developed called MuraMediaPlayer™ which will soon be released to the general public. MuraMediaPlayer allows our client to easily add media files to any page on their site. I also set up an Amazon S3 for storage of site assets and Amazon CloudFront account to allow for streaming video. In addition, the adventures and installations sites both feature a "weighted-randomized" header for the home pages. Using some Mura class extensions, I enabled the client to upload a header, location details, up to five (5) additional location images and also determine the "Weight for Randomness" for each canopy zipline tour location.
This was definitely a fun project to be a part of and hopefully one of these days, our client will invite us to one of his canopy zipline locations (hint hint!). Congratulations to everyone at EBL, and I look forward to working with you again soon.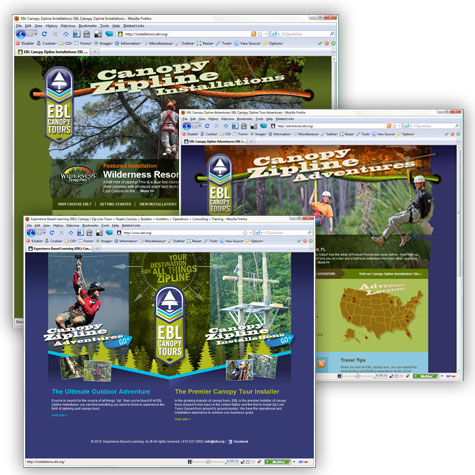 Designer: Jaci M. | Developer: Stephen Withington | Content Management System: Mura CMS