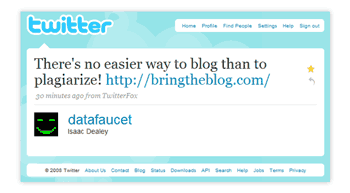 Today one of my Twitter friends found something that made me wonder if there is or should be some type of "Blogger Code of Conduct." As you can see in the picture, Isaac (Ike) Dealey said "There's no easier way to blog than to plagiarize!" with a link to bringtheblog.com. (You can type, and I don't want to give them anymore link juice than they're already receiving.)
I had to check out what in the heck he was talking about. Sure enough, there it was ... a web site with promises of "making blogging easier than ever before!" It's hard to tell from the home page of their site, and it's actually not so clear once you "Take a Tour" either. However, once you read on in the FAQ section, it all becomes clear! Here's an excerpt from the very first line in the FAQ:
I don't get it. What is "Bring the Blog"?
We're like the Associated Press for blogs. Just like the New York Times uses wire services to complement their home-grown articles, we give you outside content to make your blog better and more effective.
Hmm, ok. The AP for blogs. I get it. So ... then you publish by lines and give credit where credit is due, right? The answer? Well, I couldn't find really anything in their demos or examples that told me the "blog author" did or did not write it themselves. Kind of strange, don't you think? Especially when they claim that a blog "is like a journal or running commentary."
If it's a "journal," then shouldn't I really be writing it myself? Apparently not. Here's another excerpt from their FAQ:
Who are the Bring the Blog writers?
For each industry, we hand-select a prominent blogger that is knowledgeable of the industry, has a strong command of the Engligh language, and truly enjoys writing. And then we pay them handsomely.
The above quote is taken verbatim ... notice anything funny? Umm, English isn't really spelled "Engligh," right? Makes one wonder, doesn't it? It just spirals downhill from there. In fact, here's my favorite FAQ of all:
How often should I add my own content to my blog?
There is no "right" answer to that question. You should post to your blog whenever you feel inspired. For some folks, that's everyday. For some, it's never! It's entirely up to you.
Never? Seriously? I understand there is definitely a marketplace for this type of thing, but come on. This, in my personal opinion, borders on some shaky ethical ground. In my opinion, if you're going to "borrow" someone else's content to beef up your own blog, then give credit where credit is due. There should really be a noticeable disclaimer that says "I Didn't Write This!" In fact, how can you call yourself a blogger if you're one of the people who never write any articles?
I believe this service should be called what it really is, an aggregator. It aggregates articles that you can share with other people that you probably didn't write to begin with.
Oh, by the way, they charge you an ongoing monthly fee for the service so they can "pay them [the actual blogger's] handsomely." So, if you really want to blog, there are so many options out there to pick from and most of them are absolutely free-of-charge. In fact, here's a couple of links to get you started:
If you're a do-it-yourselfer and have a ColdFusion hosting account, you can always use what I use myself, the ever-popular BlogCFC courtesy of Raymond Camden.
Pssst, by the way ... if you want to pay me to write for your blog, just drop me a line.